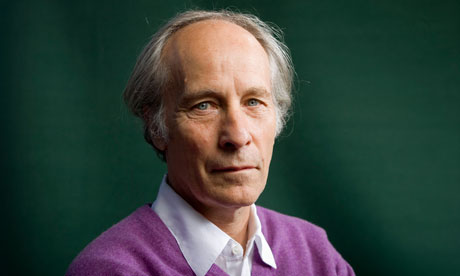 American novelist Richard
Ford's writing career can be neatly (if somewhat simplistically) divided into two parts, a game of two halves if you prefer (trite) football-related analogies.
The Ultimate Good Luck
, one of Ford's early novel s, for example, was a pacy, hard-boiled thriller with prose that was vivid and taut. These novels—I heard Ford telling in a literary festival—written with one eye on the commercial markets, did not sell, were not particularly critically acclaimed, and triggered a crisis of confidence of sorts. Encouraged by his wife (Ford said) who was happy to be the breadwinner for the family, Ford changed track completely, and published
The Sportswriter
, which is considered to be his breakthrough novel. In it Ford introduced Harry Bascombe, the novel's hero who was incapable of letting a leaf fly off the branch of a tree without making a wry, pithy and deeply meaningful observation about. Ford has written two more (hugely critically acclaimed) novels featuring Harry Bascombe. The middle novel of the trilogy,
Independence Day
, won the 1995 Pulitzer Award for fiction. From time to time, however, Ford has attempted to return to his old territory. His 1990 novel,
Wildlife
, (which I think is absolutely first rate) described three days in the life of his sixteen year old narrator. The novel had a pervading sense of foreboding and the reader could only helplessly turn page after page; the novel was unputdownable. I don't think, however, that
Wildliife
was received as enthusiastically by the critics as Ford's literary novels.
In
Canada
, Ford's eighth novel, published in 2012, Ford tries to find a via media between his literary novels and novels depicting what I have read some reviewers describe as dirty realism.
Canada
has one of the most intriguing openings I have read in a novel. "First I'll tell," the narrator, Dell Parsons, tells the reader, "about the robbery our parents committed. Then about the murders, which happened later." In the five hundred plus pages that follow Ford almost manages to live up to the expectations and the sense of anticipation created by the opening.
Canada
, narrated by a man in the twilight of his life—who is looking back on his life and the events that shaped it—is divided into three parts. The first part, as the novel's opening line informs, is about the robbery committed by the parents of Dell Parsons and his twin sister, Berner; the second part is about the murders; in the third and final part, which is in the present, we find Dell Parsons, nearing seventy, still trying to find a closure to the seminal event that had an indelible effect on his (and his sister's) life. I
In the first part of the novel we meet the Parsons family. Beverley Parsons, a Southerner and a Second World War veteran, his Jewish wife, Neeva (whose parents have severed contacts with their only child after she throws away what they see as a bright future by marrying what they see as a hick from Alabama), and their fifteen year old fraternal twins: Dell—a studious, slightly geeky boy who harbours the ambition of becoming a chess champion—and Berner—a not very attractive girl with a flat face and freckles and a sharp tongue. When the novel begins Bev Parsons has been honourably discharged from the United States air force and is eking out rather precarious existence, in Great Falls, Montana,
by dreaming up dodgy schemes which clearly fall foul of the law and bring him in contact with unsavoury characters. Neeva, who is beginning to regret her marriage to Bev and has been thinking about leaving him, is a teacher in a primary school. Then one of Bev Parson's risky schemes goes wrong and he ends up owing money to the Indians who leave him in doubt the extent to which they would be prepared to go to recover what Bev owes them. Bev Parsons then hatches a plan to rob an agricultural bank in the neighbouring state of North Dacota. Neeva, who ought to have known better than her husband whose judgement has always been less than robust, goes along with Bev's reckless plan. The inevitable happens and the pair is apprehended by the police in their home within a week of the robbery and is whisked off to jail. In the days leading to their arrest, Neeva, on whom the gravity of what they have done is dawning, has made some last ditch arrangements for her children whom she does not wish to become wards of the state following their imprisonment which she believes is inevitable. The plan is to send the children to Canada to stay with the brother of a friend of Neeva in Great Falls. In the second part Dell Parsons looks back upon the months he spends in the half deserted town (Maple Creek) in Saskatchewan, Canada, in the company of the mysterious Arthur Remlinger, an American who has a violent, mysterious past, which he is anxious stay concealed. Remlinger is prepared to go to any extent—even murder—in his attempts to ensure that his past deeds lay buried. Fifteen year old Dell, parentless and without a family—Berner having walked out of the house before their mother's friend turned up to smuggle the children across the border into Canada—is drawn into burying the bodies of the Americans who have driven into Maple Creek to ask Arthur Remlinger a few questions he is reluctant to answer. In the third and final part Dell Parsons, who has led a blameless, middle class existence as a teacher and has enjoyed happy, if childless, matrimony, tries to make sense of the course his life has taken; meets with his sister Berner—who, unlike him, has led a tragic, chequered life—just before she succumbs to lymphoma; and comes to the not-altogether-surprising conclusion, of which he has given the reader a hint in the opening paragraph of this remarkable novel, that it was their parents' calamitous decision to commit a robbery that set his and sister's lives on the vastly different courses they eventually followed, and nothing that had happened would make sense without it.
Canada
manages the feat of being intense and profound while progressing at a leisurely speed without ever becoming desultory. The languid speed of the novel is very similar to Ford's trilogy of Harry Bascombe. Ford achieves this by infusing the novel with an inner force, a kind of silent energy. Ford's sense of time and place is near faultless. The first part, where Beverley Parsons slowly, and with precision, chalks his and his family's way to ruin, is the literary equivalent of watching a fatal crash in slow motion. It is this part that forms the emotional backbone of the novel. In the second part—where young Dell Parsons finds himself in cold and bleak Saskatchewan in the company shadowy people with mood swings more violent than tropical thunderstorms —the novel lurches abruptly away and risks losing the focus and intensity of the first part. Ford just about pulls this off. The vivid and lyrical, yet haunting, descriptions of the Saskatchewan prairie provide substantial background and depth to this part of the novel. The murders, while they have nothing to do with the robberies committed by the parents serve to add to already increasing burden of guilt of the narrator for the events which are not of his making.
Ford's prose is simple, prosaic, sparse, unostentatious—there is none of the dense, dandyish prose of the Harry Bascombe novels—yet of great melancholic beauty; and does full justice to the odyssey of Dell Parson's life—tragic, yes; unfulfilled, perhaps; but also the innate strength and sheer tenacity of human nature to prevail over adversity.
Canada
is a gripping tale of the bewildering follies of human nature that come to exert influences on those whose lives are affected by them for years, long after the original act is committed. The novel is almost a masterpiece.